I- Form will enhance processing efficiency for Irish manufacturing, allowing the production of highly customised 3-D printed components exhibiting superior performance. This will be achieved through the efficient use of advanced process monitoring, incorporating embedded sensors and process control in the entire value chain from "powder to final product".  Advanced data analytic techniques will ensure superior product quality and reduce manufacturing waste. The Centre will enhance the manufacturability of bespoke components and products using 3D printing techniques.  This technology enables manufactured components to be customised for individual end users. For example, artificial joints and implantable medical devices can be tailored to match the needs of individual patients.  The I-Form Centre will make a distinct and positive impact on the international competitiveness of Irish additive manufacturing.  
Process digitalisation, for optimisation and control
Process simulation, for shorter development times
Data analytics, enabling real-time process feedback
Augmented reality, for enhanced operator decision-making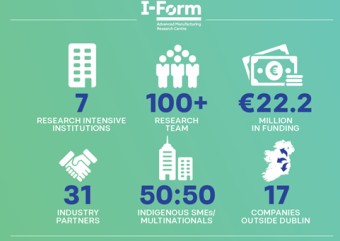 Industry partnerships
I-Form has strong collaborative industry engagement in sectors including medical devices, aerospace, automobile and microelectronic components.
Examples of projects I-Form is working on:
Combining large volumes of existing process data with the examination of new materials and process conditions, in order to create a predictive model for manufacturing a new component. This is aimed at reducing the development time and trial-and-error cycles by more than 50 percent.
Adding new types of sensors to processes to collect data – this is used to generate new process control algorithms that can adjust the process in real-time to ensure quality. This will significantly reduce the volume and regularity of quality inspection on the finished part.
Enhancing or replacing an existing manufacturing process with a digitally based equivalent to increase flexibility, reduce cost and maintain competitiveness.
Lead Institution
Academic Partner Institutions
Education and Public Engagement
As a publicly funded research centre, I-Form is committed to public engagement: It's important that we talk to the public about what we are doing, and why we are doing it. Public engagement also offers an opportunity for all of us to improve our communication skills and to ensure we remain connected to the bigger societal picture as we go about our research. From a theoretical perspective, the ethos of public engagement for I-Form is underpinned by a move away from deficit models of public engagement towards more dialogic and participatory models, with the ultimate aim of moving towards engaged research.   
I-Form has developed three long-term goals for its public engagement activities; these tie in with the Centre's vision and mission, and all our EPE activities aim to align with one or more of these goals:

I-Form's education and public engagement remit is delivered through two main 'pillars':
"Advanced manufacturing in education"
"Diversity & community"
Our programmes include second-level teacher training in 3D printing, Transition Year student innovation challenges, primary school workshops, women in 3D printing meetups, youth group activities, and activities at festivals and other events.
I-Form will develop a range of different academic courses targeted at both undergraduate and graduate students. Online training programmes will target those currently working in manufacturing. These courses will address materials processing, AM and data-driven digital manufacturing, with shared modules enabling multi-site education.
Key Contact Details
Prof Denis Dowling
Director
Sylvia Leatham
Communications and Engagement Manager