Watch our December webinar where Dr. Peter Clifford, Head of Strategy at SFI, shares an update on how the strategy development is progressing. 
Read more here
We have sought ideas, actions, visions and missions for SFI through extensive data gathering and workshopping.  We have talked to the people who know best, the people who are affected most by what we do. We have carried out international good practice research. We have looked at the key performance indicators for peer organisations and we have visited them to look at their strategies and see what works best and what doesn't work.  We have connected with academics, young researchers, industry partners, policy makers and the general public.  In total, we have consulted with around 1,000 individuals to date using a variety of approaches including workshops, surveys, interviews and focus groups.  Our survey had 308 responses rich with ideas.  We workshopped in in Higher Education Institutions (HEI's) targeting academics.  We led separate focus groups with early career researchers, enterprise, and with public engagement and communicators of research.    
It was an intensive and fun process and we captured every piece of data (we do like our data!).  Over three months we've had 149 brainstorming sessions in our workshops, used 4,470 post-its and travelled 1,442 kms across Ireland to engage and connect with people interested in science for our future.   We also had a professional illustrator at some of our sessions who drew out some of the discussions around themes that were emerging. – sometimes a picture can tell a thousand words.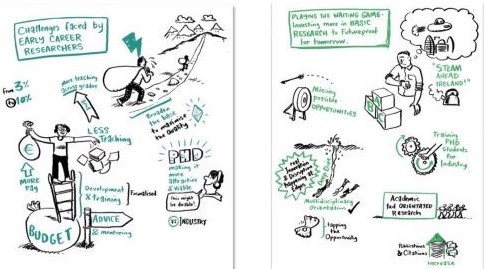 At the workshops, we presented a menu of topics focusing on how we invest in research in Ireland, the science and research ecosystem, and trends that will impact the future of research.  We invited participants to tease out what the strengths and weaknesses are around the themes and potential actions that SFI could focus on.   Some themes resonated more than others with workshop participants.  The graph illustrates the votes each topic received as groups chose what to discuss.
Topics chosen at workshops: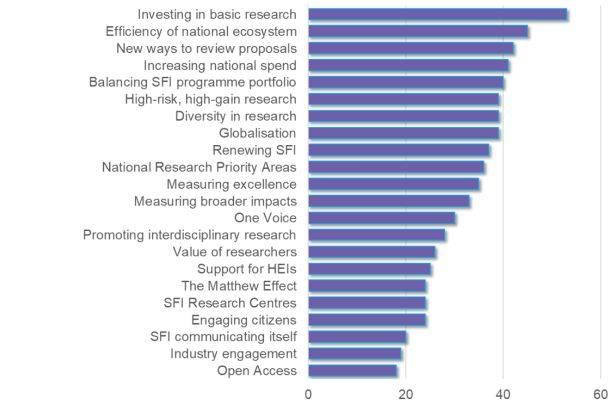 One Voice refers to the possibility of aligning many stakeholders behind a common message of the value of research.  The Matthew Effect refers to the rich getting richer, i.e. the phenomenon of a small number of researchers with very strong track records finding it perhaps too easy to win further grants, while others even with potentially better ideas find it challenging to win funding.  Full Disclosure - This is not a scientific graph because we changed the offerings of themes at different workshops 
It is too early to talk about findings but there are interesting trends emerging.  From the workshops alone, we've had over 800 ideas merging into 50 clusters which are falling into three categories – the low hanging fruit (relatively easy to do and within SFI's remit), the more challenging but within SFI's remit and capabilities, and others which SFI would be play a supportive role as part of the research system.      
We are currently analysing the vast amount of data we have and are clustering and segmenting these around our vision and mission for SFI 2025.  We will move into the 'draft strawman' phase in early 2019. That will see all the knowledge and ideas gathered and translating them into a draft strategy which will then be put that out for further consultation.  We are planning to host an open online forum in February or March where everyone can contribute and input to different topics and discussions.  This will be open to the general public, the research community, politicians and those who make up and participate in our research ecosystem.   
SFI would like to extend a sincere thank you to everyone who has given of their time and ideas so freely to date!